Denon DCD-1450 AR
Spring 2006

I bought this superb CD as brand new. The remote was even un-packed. It is actually the first new machine which I lampized to date.
It is a real beauty: simple, elegant design, minimalistic fascia with only the necessary buttons neatly laid out. Five stars for ergonomy, only the display digits could be one size larger.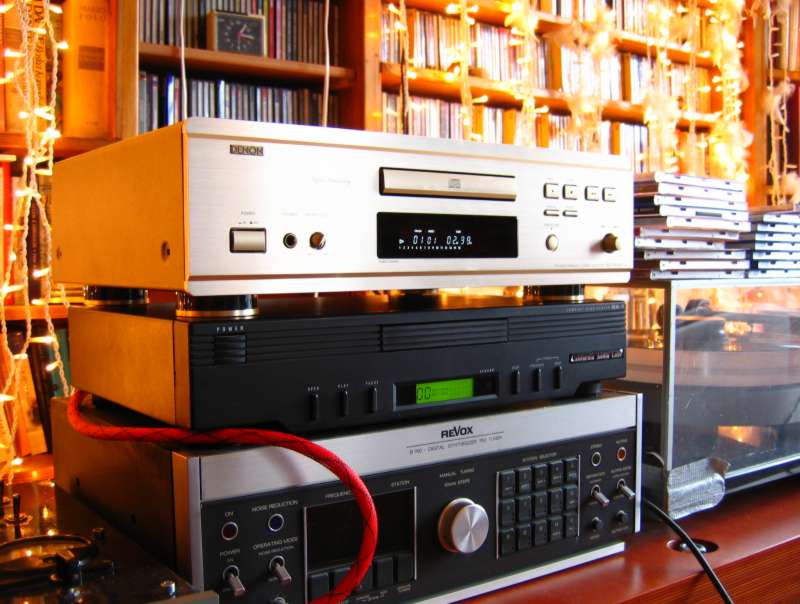 Upon inspection I found to my joy a surprisingly good set of DAC chips - BurrBrown PCM1702. Now wait a minute - aren't these same chips as in Wadia 860, Levinson 39, Kenwood 7090, Accuphase DP65 etc etc? Yes, the same ones!
This discovery set the expectations bar very high. I have never worked on these DACs with my lampizator.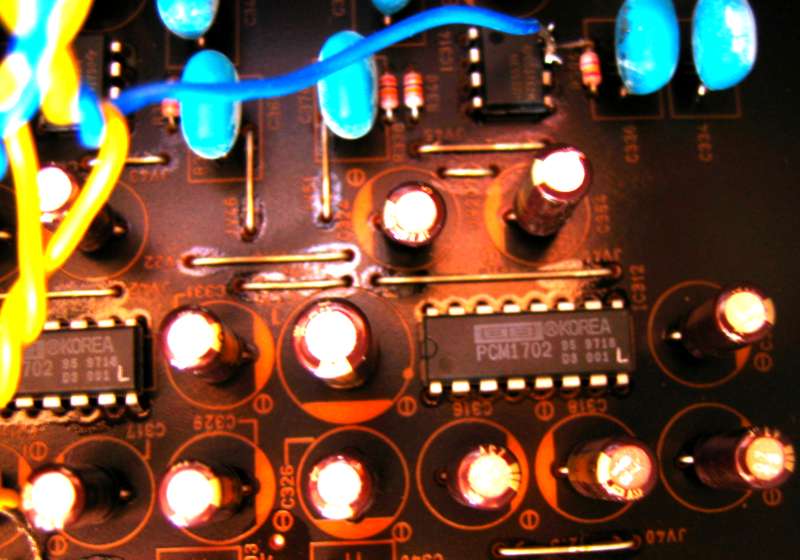 The first step that I take as a routine is to hook the external lampizator for a test drive. The tricky part is to find the appropriate points of connection but this machine is 15th CD which I re-do, so it took only few minutes.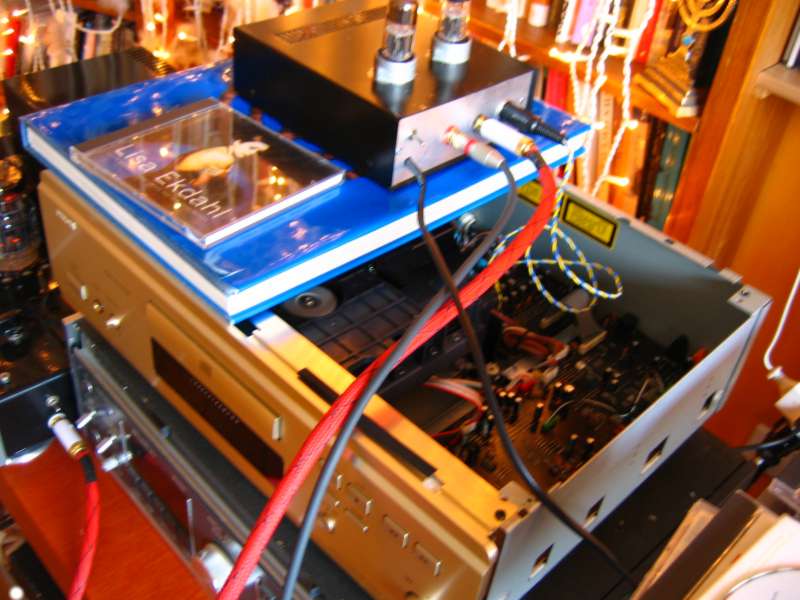 THE SOUND

Denon has a sound that is - from the first notes - very friendly to the ear. It has natural property which makes you smile.
It does not have any single property strongly standing out - on contrary - it has a very fine blend of properties that produces overall almost perfect sound. Probably a touch less punchy and adrenaline loaded than TDA1541S, or maybe not as deep bass as PCM63, or maybe not as loaded with 3-d effects as the D.R.I.V.E. dac from Kenwood 5090/Matsushita. But the lack of weaknesses and fabulously natural vocals make this DAC a real steal. The session ended very late and the CDs I used formed a huge pile on the table. I just wanted more and more of this CD 's sound.

The internal build is very nice, even if nowhere near the heavyweight machines, but all things being equal this is an economic player, with carefully made investments in critical areas. The output stage (op-amp based of course) is very neat and simple. The DAC section is high end. Power supply is economy class, and the mechanism is very cheap one - a SHARP's interpretation of Sony KSA210. Something decent that spins the disc with confidence but nothing to write home about.
This is in a way similar concept like Copland 289 - same mechanism, same quality of DAC from Burr Brown.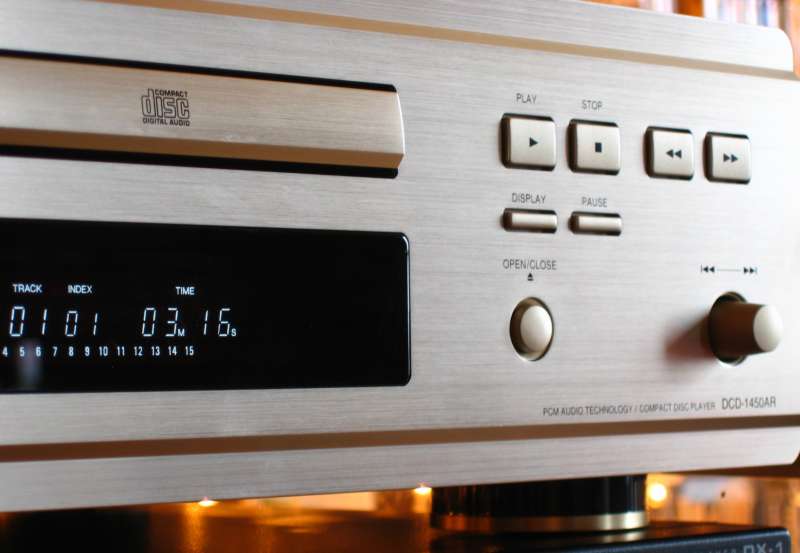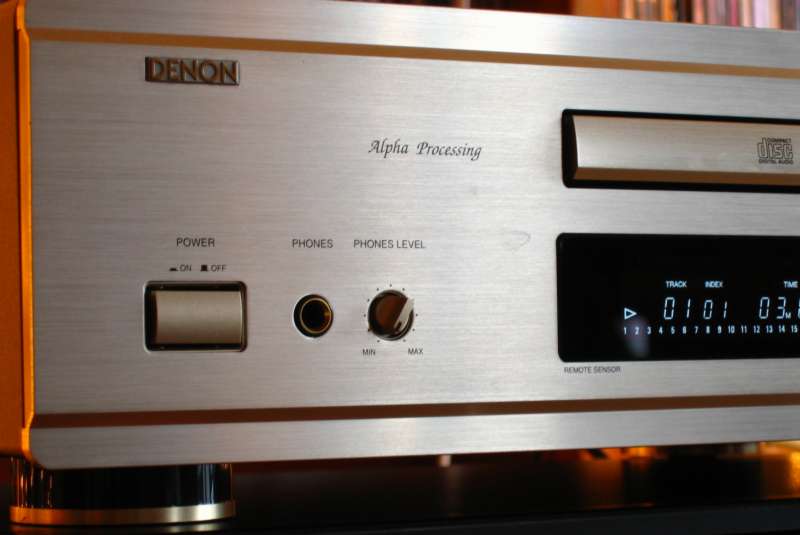 THE JOB

This player has plenty of empty space inside so the internal lampization seemed a logical solution. To honour the cool metallic look of the Denon I decided to expose the tubes, at least their glowing heads. I opted for visible lampization.
I installed the new toroid transformer, power supply for tube filaments (DC serial type), DC 140V power supply for anodes, new central ground star hook-up, and output section with two new solid RCA jacks and high end arcotronics caps.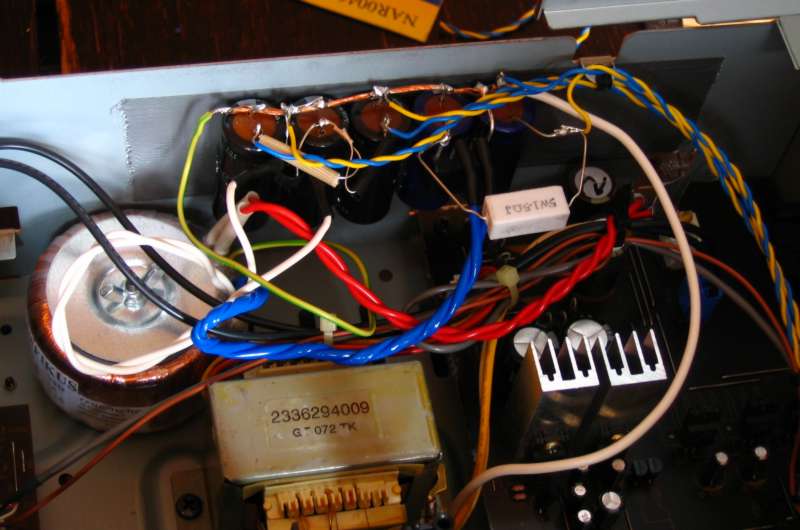 Note- the white "hanging" ceramic resistor is deliberately mounted like this to dissipate heat .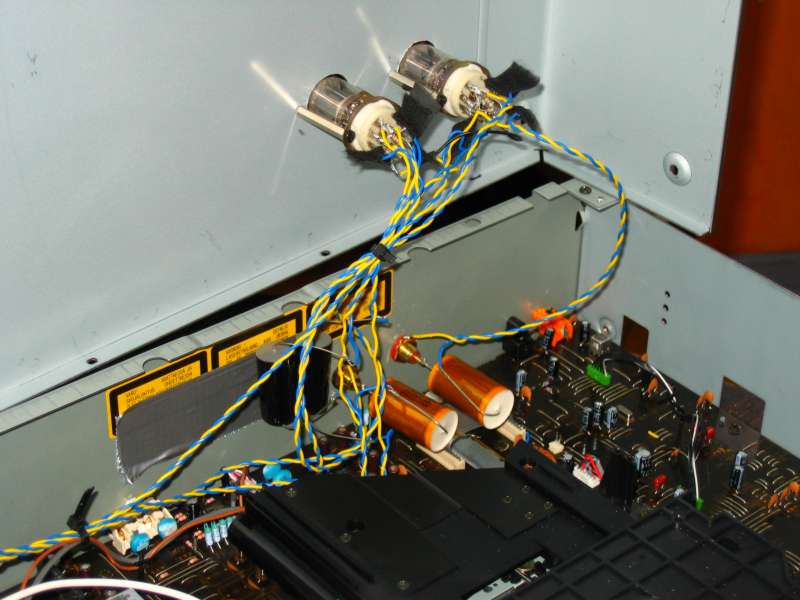 The tube section is the hardest to mount - drilling 25 mm holes NEATLY is a goddamn' nightmare. But anyway that's what I did.
I think that the player looks much better when not all tubes are visible (like my Pioneer job) but only the top (glowing) part with silver heads and so I sunk the sockets 30 mm deep by means of steel "legs". The whole job, however crazy it may seem - looks like this.
I m very proud of this particular lampization.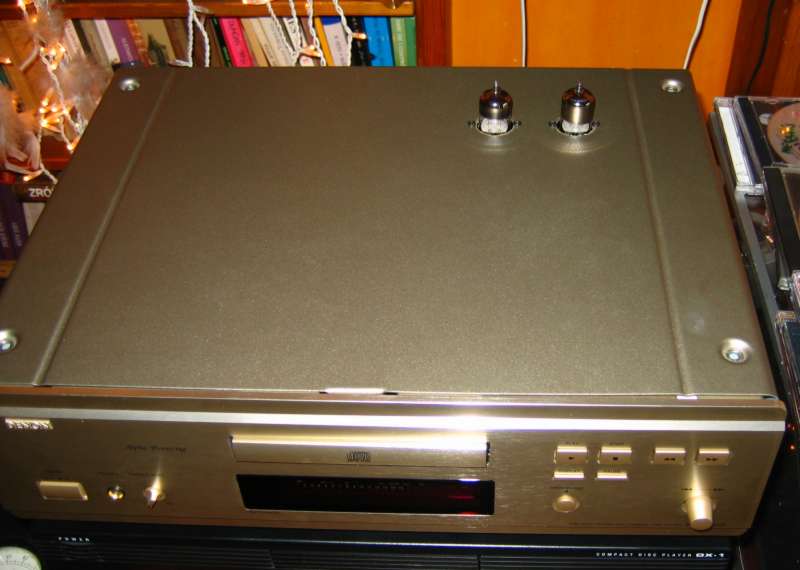 (I am sorry but the lid is not screwed in place which looks ugly)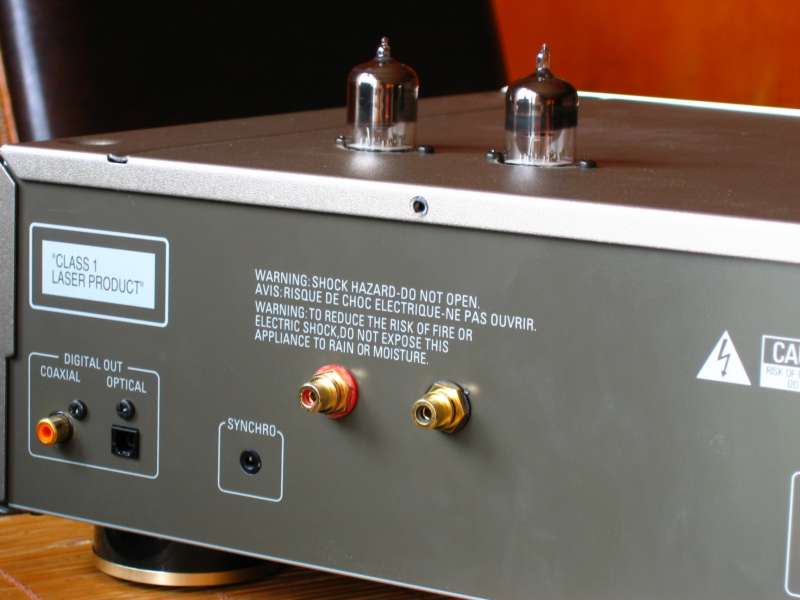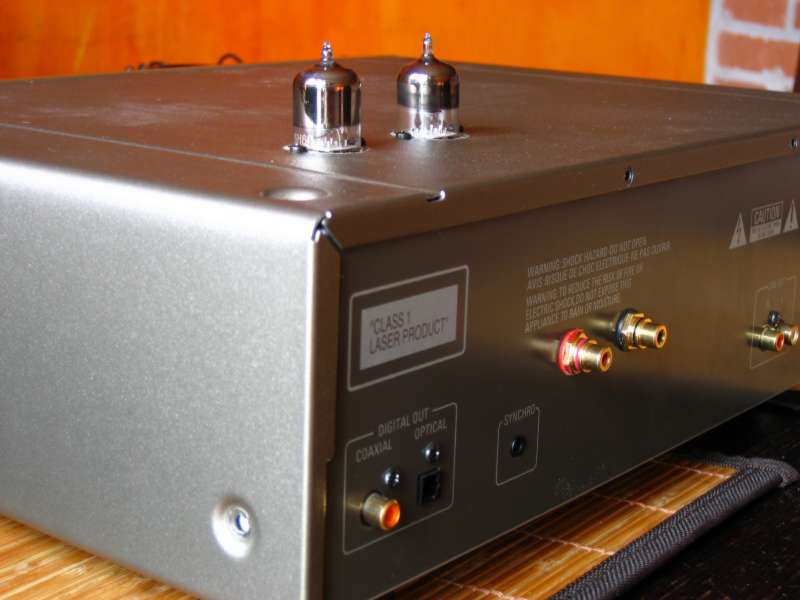 On a last note - I think this player deserves PCB tuning - capacitors and clock at least.


Some more news: - the comparison of this Denon and another Denon with lampizator

List of other fine players using the same DAC ...PCM1702

ACCUPHASE DC-61 12 x PCM1702
ACCUPHASE DP-55 6 x PCM1702 – SM5843AP
ACCUPHASE DP-65 8 x PCM1702
ACCUPHASE DP-65V 8 x PCM1702
ACCUPHASE DP-75 16 x PCM1702
ADCOM GCD-750 4 x PCM1702
ASSEMBLAGE DAC-2 2 x PCM1702
AUDIOLABOR 531 2x PCM1702
BOW TECHNOLOGIES ZZ-Eight 4 x PCM1702
California Audio Labs CL15 PCM1702
California Audio Labs Icon Mk II 2 x PCM1702
CEC TL5100Z 2x PCM1702
CLASSE AUDIO CDP.3 2 x PCM1702
CLASSE AUDIO CDP.5 PCM1702
DENON DCD-201SA 2 x PCM1702
DENON DCD-755AR 2 x PCM1702
DENON DCD-2700 4 x PCM1702-
DENON DCD-2880AR 4 x PCM1702
DENON DCD-3000 4 x PCM1702
DENON DCD-S1 4 x PCM1702
DENON DCD-S10 4 x PCM1702-J
KRELL KAV-250cd 2 x PCM1702
KRELL KAV-300cd 2 x PCM1702
LINN CD12 SONDEK 4 x PCM1702
LINN NUMERIC Mk 3 PCM1702
MARK LEVINSON No 36 4 x PCM1702
MARK LEVINSON No 39 PCM1702
MCINTOSH MDA4000 2 x PCM1702
NAIM AUDIO CDS II 2 x PCM1702
NAIM AUDIO CDX 2 x PCM1702-
NAKAMICHI DAC-41 2 x PCM1702
PARASOUND C/DP-2000 2 x PCM1702
PRIMARE D30.2 4 x PCM1702
PS AUDIO DIGILINK II PCM1702
SONIC FRONTIERS ANTHEM 2 x PCM1702
SONIC FRONTIERS Transdac 2 x PCM1702
STAX DAC-TALENT BD 4 x PCM1702
TEAC VRDS-8 4 x PCM1702
TEAC VRDS-9 4 x PCM1702
THETA DS PRO BASIC III PCM1702
ULTECH HDCD-10 2 x PCM1702
WADIA 16 PCM1702
WADIA 21 4 x PCM1702
WADIA 25 4 x PCM1702
WADIA 27 PCM1702
WADIA 830 4 x PCM1702
WADIA 850 2 x PCM1702
WADIA 860 4 x PCM1702<>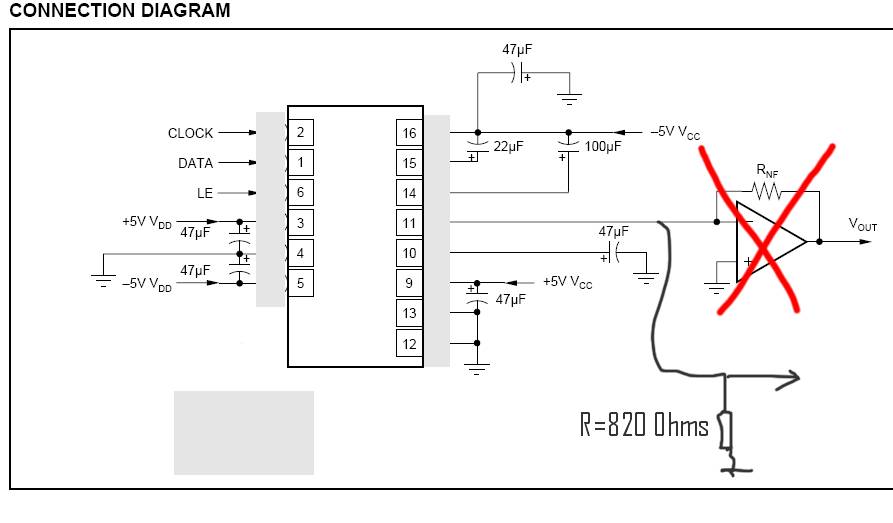 BACK